The diversity of the projects in our portfolio is evidence of the uniqueness of each client. Every project is developed in dialogue with the client and each result, to varying extent, bears the stamp of its owner as well as ours. We welcome the particular challenges and rewards of each new relationship, each program of needs and aspirations, each new site.
There are many aspects to Architectural Service. Here is a snapshot of the architectural process.
What We Do
Master Planning
This is the beginning, where basic decisions begin to shape the picture, inside and out. We spend time talking about what you want and need. Visual material helps to refine and resolve your own ideas.
This effort results in a Program, or a list of requirements and wishes. With that in mind, we methodically weave these ideas about lifestyle, preferences, the site and its surroundings, zoning and code issues, with the budget. Next, we develop a Master Plan of the building and site, from which we can gauge the true scope of the work. All pieces should fit together in the right proportions and with the best relationships.
Sometimes projects happen in gradual stages, whereas others happen all at once. This timeline informs us to envision future goals and to move toward practical and artful results.
Architecture
Our work is about more than building, but about the logic, ethics and aesthetics of the higher standard, Architecture. We work to encompass all aspects to ensure the integrity of construction, the fitness of the design to your needs and aspirations, environmental suitability, and ultimately to its beauty and appeal. We work it all out, inside and outside the building, and into the landscape, to create happy and satisfying settings for our clients' lives and work.
Interior Design
Although the interior of our architecture is fully designed, we can carry it all the way through to selection of materials, textures and colors. We ensure that suitable arrangements of furniture are intrinsic to the space and can collaborate with interior specialists of either your choosing or our recommendation.
Larger and Smaller Goals
Your project may encompass an entire site, a full environment, or simply a program of improvements and additions for enhancement or functional improvement of your present setting.
How We Do It
Practice
Generations of architects have built upon their collective body of experience to form an outline for good practice, creating a structure for the planning and creativity needed in a relationship with our clients.
Every project starts with a conversation that continues from the design phase, through the various stages of construction, up to the day that our client becomes occupant. We make certain the in-between work proceeds reasonably and methodically. This happens through a well-structured process built on reliable and trustworthy relationships.
Again, our finished projects are unique as each client. Traditional methods, combined with modern techniques and flexibility give scope to craft creative solutions.
Scope of Service
When a person asks what kind of service we can provide, we try to determine what's best for them. The clearest way to explain the options is to start with a description of "full service", which involves every phase and detail of the project thereby ensuring optimal results. It implies an indefinite measure of responsibility, so compensation is proportional to the actual construction as a percentage. For a more finite degree of service, we can make other arrangements, such as working hourly to an estimate or a fixed fee. Following is a brief overview of the various stages of a typical project.
The Stages of a Project
predesign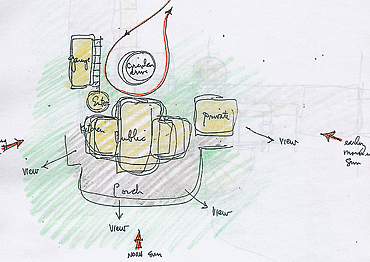 This is the getting to know you phase. At this time we collect all pre-requisite information and start the discussion of ideas and aesthetics. We program the project to come to a mutual understanding, taking notes and asking question to clarify the vision and its goals. We study the site and its environmental qualities and regulatory aspects, such as zoning, wetlands and flood zones. We look at the topography and solar orientation.
What are the rooms you envision? What are the exterior spaces you would like?
What is the desirable style of flow? What plan would work best?
What's unique about your lifestyle and how you want to shape the spaces around it?
How will we relate to the site? To the sun? To the views?
What level of energy efficiency will you invest in?
What style of interior detail do you picture? What finishes do you appreciate?
And on it goes toward realization.
schematic design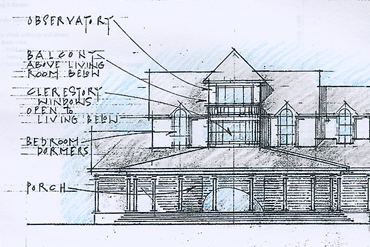 Here we begin putting all the information together to sketch possible options. During many meetings and conversations, we cull through their features and ideas to put together the best fit, resulting in a design that works with the site and fulfills your vision. It may still be in sketch form, but we've reached a point where we can imagine the project, and we're ready to move forward.
design development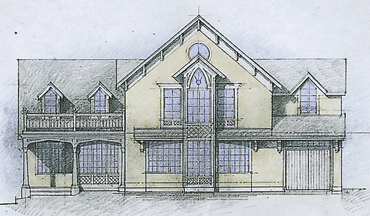 Now, with a basic design, we start to develop more detailed drawings to explore how the house or building will be put together. This provides a more accurate picture of its look, how the spaces shape out and function, and how it will be built. This phase results in drawings that help to see the form, detail and spirit of the finished result. In some cases a model will be helpful.
construction drawings
Here, we build it on paper. The builder's best and most cost-effective work occurs with clearly presented goals and requirements. A set of drawings is developed to reasonably describe expectations, allowing them to price it with confidence and efficiency — the first step toward building a good team!
bidding and negotiation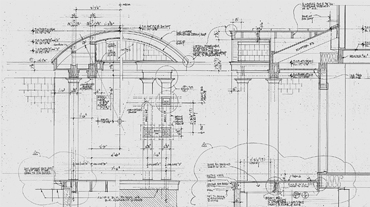 Based upon experience, we have developed a process for balancing the requirements of a project with its costs. The choice of builder often results from a mix of the practical and the personal. 
We sort through the numbers and options, to help you make the best choice. Our experience with many builders aids us in interviewing potential candidates, enabling the owner to select among the best qualified and the most interested. This ensures a field of pre-selected candidates, competing to provide a proposal at an appropriate cost.
There are many ways to arrive at an agreement with a builder for a defined scope of work. We can get there by competitive bidding or by involvement in a negotiation. Either way, the phases are the same and the goal is to put together a team that you are comfortable being a part of.
Before construction begins, an agreed-upon protocol for handling payments, changes and the unexpected is set into place. Herein we form a foundation of understanding and cooperation for the following term of the building process
construction phase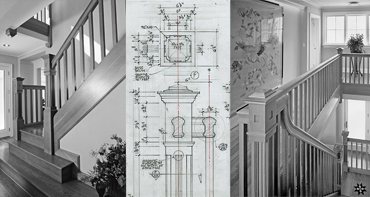 Key to the continued development of the project is the presence and authority of the architect as an ongoing factor. No one knows the full intent of the design or the drawings as well as we do.
The three-way relationship of the team — owner, architect, builder — is a formula for best results. During the process of construction, questions inevitably arise, selections and refinements must be coordinated, adjustments may be desired and the team must be kept on the same page. We coordinate this engagement and provide oversight. At the end, we should all be satisfied with the shared experience and good results. That is the best warranty!
Anthony (Tony) Terry, Principal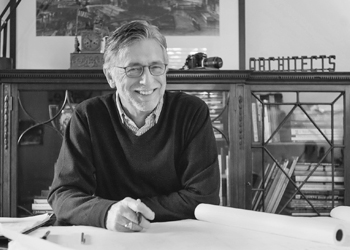 Tony received his Bachelor of Arts in Architecture, with honors, from the University of North Carolina. He pursued graduate work at the University of Pennsylvania and received a Master of Architecture degree from Yale in 1982.
After completing a variety of internships with architectural firms in New Haven, working on diverse projects types in both the public and private sectors, he became licensed and formed Terry Architecture LLC in 1989. Tony is a registered architect in the state of Connecticut and a member of the American Institute of Architects. He is also a LEED accredited professional and a member of the U.S. Green Building Council.
Tony's activities in the pursuit of good architecture include membership on Branford's Town Center Design Review Board and on the Board of Directors of the Branford Arts and Cultural Alliance. His work has been published locally and nationally in architectural books and magazines. He has also been recognized by his peers, through AIA Connecticut, The Connecticut Chapter of the American Institute of Architects, with several awards.
Tony has made it his mission to specialize in service best offered by a small office, where attention to clients and to detailed design is of utmost importance. Within this mission he brings to every client relationship the conviction that a distinct and unique outcome will prevail from a collaborative effort, and has the skills to manage the process, as reflected in the results of his many projects.
David Williamson, Associate
David graduated with a Bachelor of Arts in Architecture, with honors, and a diploma in architecture from the University of Portsmouth in the United Kingdom. He is also a licensed, ARB in the United Kingdom. Before emigrating to the United States, David practiced in Belfast, Northern Ireland, Portsmouth and London, England. The diversity of his background brings a unique perspective to his work.
David plays a very big role in managing the coordination between design development and construction drawings. His passion for resolution and exactness, as well as a refined point of view, contributes to the shaping of every phase of a project.